I really enjoyed watching the first episode of
Outback House
last night. The series is another in the 'House' series, where they re-create the living environment, trials and tribulations of a given time and place, and then after a period of training in the history and life-skills of the period a family and/or helpers and domestic staff are left to live out the lifestyle as accurately as possible. In this case it is Australia in 1861 and a family of 5 are the 'owners' of the outback sheep station, with shepherds, station hands, domestic staff, governess etc totalling 16 in all.
I think they made one or two poor choices in the first episode, which I guess is an important part of the point of the series, seeing how well modern people cope with the important decisions required by their circumstances. Mixing the pregnant ewes and the lambs with the rest of the sheep was a poor idea, with the result that they couldn't then move the sheep across country without losing many of the lambs and risking the ewes. Poor Dan the young shepherd was left behind without company, food or water, to try and control the huge mass of sheep while everyone else took off for the homestead. I don't blame him for breaking down in tears of frustration and wanting to resign as shepherd. I think
Dan
is going to be one of my favourite cast members, and not just because in his 'cast biography' he is open about being gay. (Ok, maybe just a
little
bit.)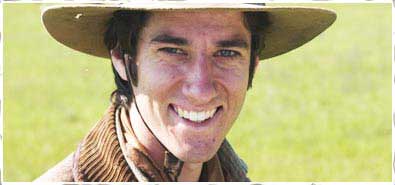 "Outback House", Dan the Shepherd.
I've watched all the other 'house' series previous to this and enjoyed them all pretty much, especially the
Edwardian House
(known as Manor House in the US), the
Frontier House
and the
1940' House
, although I was less excited by the
Regency House Party
(which at one point was
destined to be the last
of the franchise).
Lest I be accused of
not
being shallow, I have to give a shout out to the casting director of The Edwardian House. The male staff were all extremely cute; young
Tristan the Groom
and
Kenny the 'Hallboy'
, and the two Footmen
Charlie
and
Rob
. Yowza.
"The Edwardian House" staff. Rob & Charlie left, Tristan & Kenny right.