A
wise man
once discovered that the "...answer to the question of Life, the Universe, and Everything." was
42
.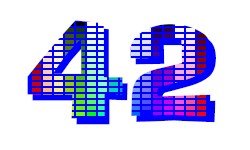 However, what wasn't understood - was the
question
.
Maybe 42
is
an answer to a poorly understood question, and that idea appeals to me. The search for the right question rather than the right answer. Turning 42 doesn't particularly feel like it is the answer to anything, but it sure as hell raises new questions.
Like "Why does my knee click when I do
this
?" "This haircut - mutton or lamb?" and "What next?"
My dear friend Steve is down from Brisbane, and I've given myself the day off to enjoy my birthday and recover from the stress of the conference over the weekend. First order of the day is breakfast with Steve at a Newtown cafe, and then this afternoon I'll spend some time with
Quinn
and have dinner with Morgan, Quinn and Bodhi this evening. Low key and enjoyable. There has been too much on this week to have any sort of extravaganza planned, but spending time with friends is what I feel like today. Sharing my birthday with the friends I've made on Das Internetz included.
Speaking of birthdays. Last night we celebrated the lovely
Morgan's
40th birthday with drinkies at a stylish old pub in one of the older parts of Sydney called The Rocks. Tucked just under the entrance to the Harbour Bridge, down by the Harbour, it turned out to be a mild Spring night to stand on the terrace and a great venue. Our photogeek friends and myself bought him a bunch of fab camera equipment, much to his delight. It was a really fun night for all of us.
So, a big thanks all for the birthday wishes, and a big shout out to Michael for
the fabulous gift
! Just what I always wanted.